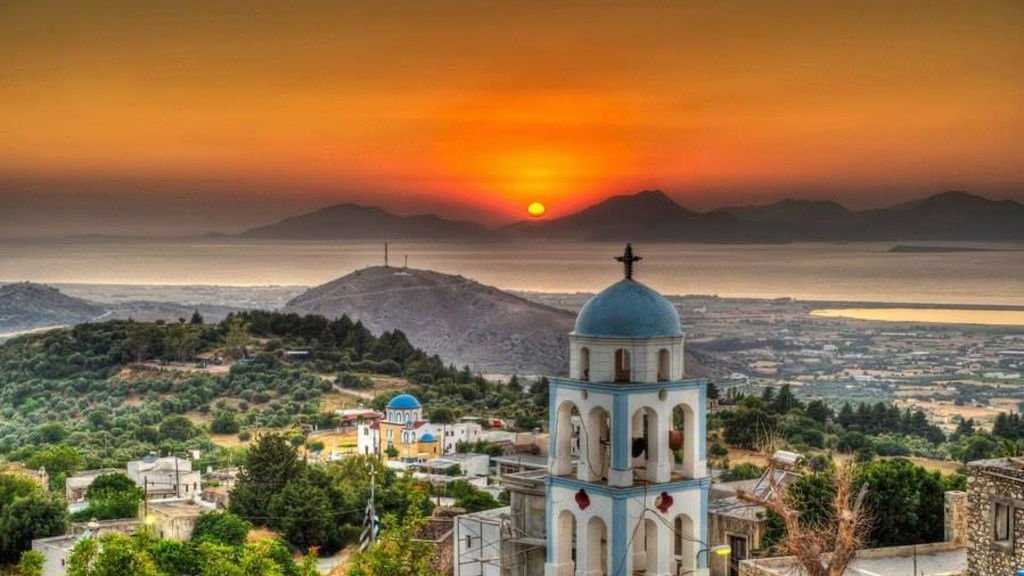 A village on the hill of Kos island: Zia village
Zia is an enchanting little village that lies at the base of Mount Dikaios, the highest mountain of Kos island, that culminates at 846m above sea level. It is the southernmost and highest quarter of the Asfendiou village, lodged in deep green fruit trees with abundant crystal springs, like Kefalovrysi.
Zia has characterized as an area of special natural beauty and a preservable traditional quarter, as is the entire village of Asfendiou. The village has kept its traditional feel but has become one of the major tourist attractions of the island and is therefore often overcrowded especially around its main road, where the tourist shops concentrated. We would advise you to take the time to walk to the upper edge of the village as I find that it is the most untarnished, original part and well worth the visit. It's interesting to see how nature and man have learned to coexist in a very healthy symbiosis full of mutual respect.
Zia village
The village engulfed in woods and the humidity (water rushing down the mountain plentiful) produces a cooler atmosphere and makes Zia the ideal place to take refuge from the sweltering summer heat. The water from the spring of Kefalovrisi (situated on the upper part of the village) used to flow through the village and allowed to power the watermills and irrigate the patches of land that cultivated.
The best plan, in our view, would be to get there in the early afternoon and work on your appetite by going on a walk in the woods full of fir trees. Or for the more adventurous amongst you climbing up to the top of Mount Dikaios where you can visit the church of Christos. From the top, on clear days, the all around view is breathtaking as  this is clearly amongst the greatest vantage points of the island: you can see deep into Turkey, admire the islands of Pserimos, Kalymnos on the one side and Nissyros on the other. Don't spent too times though as the path is a little treacherous, and arrive to the village before darkness. Once you have come back to the village there are quite a few tavernas available and the food is generally quite good, but we advice to you, find the restaurant with the best view as the place is famous for its incredible sunsets.
Visit plan
You can start off with a traditional ouzo to relax and recover with take in the astonishing colors that only the mingling sun and sea can bring together. You can then move on to mezedakia (assortment of different appetizers) have a main course if you so wish. And we think you will have another wonderful day in Zia on your holiday.