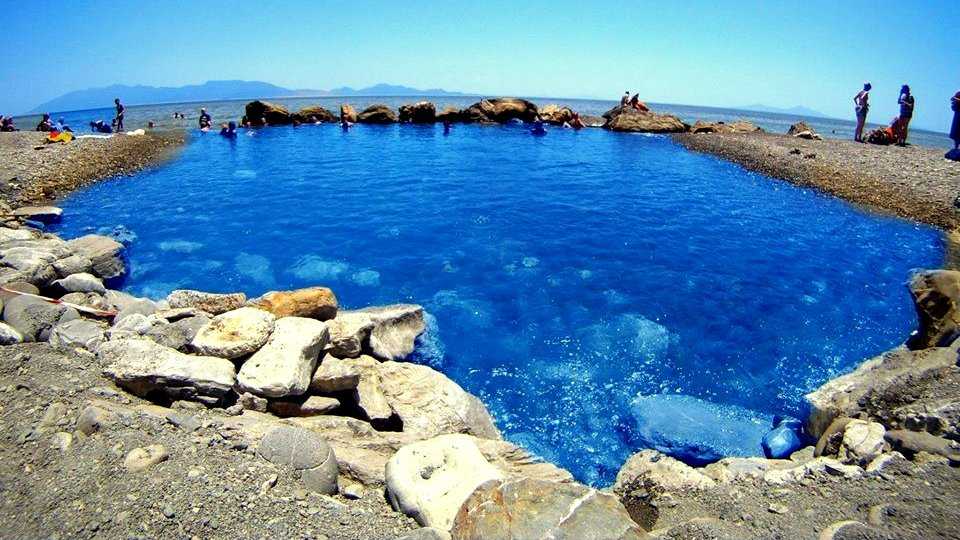 A natural spa on Kos island: Terma
The thermal hot springs and beach situated 10 kms away from Kos Town and 8kms away from Psalidi.
In order to get there, it is necessary to go across the East beach and pass Psalidi cape, as well as Agios Fokas cape. In the case of Agios Fokas, its cape is a steep arm coming from a 75 height from the sea level hill. That location, there used to be also a small church dedicated to Agios Fokas. Which dated around the Byzantine period, and at approximately 3 km away from there. In the case of thermal hot springs on Kos placed at the end of a 250 meter-long pebbled beach, surrounded by a rock pool. In this pool, hot water is usually ranging between 42oC and 50oC. When it mixes with the water coming from the sea, it produces a nice warm bath. According to some locals advice, the best part of the pool start with the left back, where the water not so warm. Then, one can gradually move towards hotter waters.
Therma Hot Springs on Kos
The water is rich in many elements namely sulfur (the distinct smell is clearly identifiable), potassium, calcium, magnesium and has therapeutic benefits for the muscular and respiratory system, helping out in cases of arthritis, rheumatism, and liver, dermatologic, blood and ophthalmologic disorders. Therma Hot Springs discovered by the Archaeologist Laurentsi in 1934. The recent 2017 earthquake has increased the hot spring flow so the temperature of the water has risen. Quite a bit but visitors tend to stay a bit further away from the spring flows into the sea. Still the Therma Hot Springs remain one of the main attractions of the island. And visitors tend to visit at all hours of the day and night even though it the remote area.