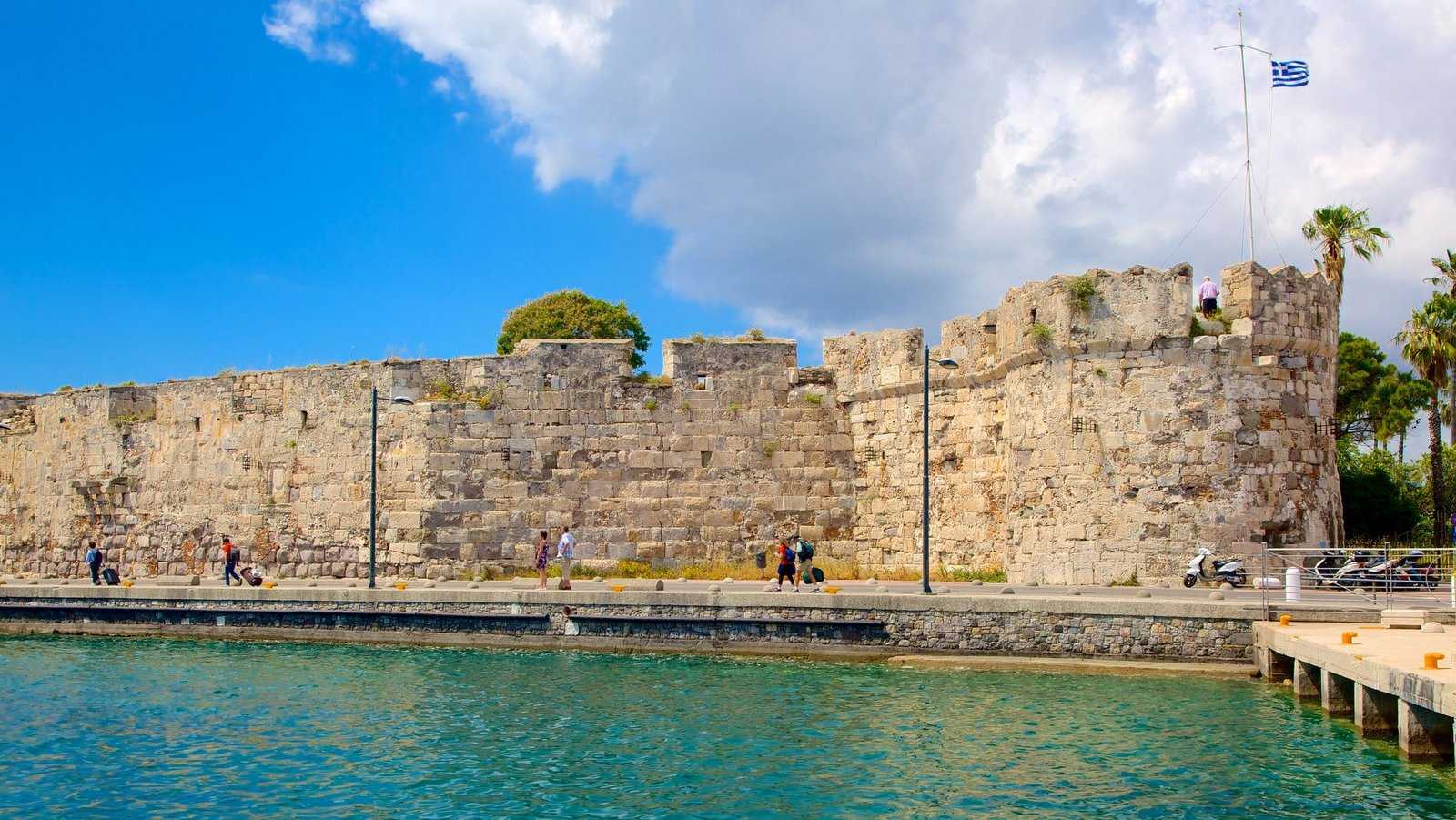 The legacy of the knights of St. John: Kos castle
Why the island with its fortress renamed Nerantzia (sour orange tree in Greek)?
The Kos Town Castle situated at the entrance of the Kos harbor and control the entrance of ancient harbor. It faces the
Bodrum Castle
situated just opposite on the Turkish coast with which it collaborated to control the strategic straits between Greece and Turkey. Entrance situated at the Square of Hippocrates Plane Tree, where a bridge crosses Palm Tree Avenue. It used to be a moat until the beginning of the 20th century. At the 14th and 15th centuries island densely planted with lemon and bitter (sour) oranges. The Neratzia Castle, in its present form, built by the Knights of St.John of Jerusalem. Which also ruled the island from 1314 to 1522. When H. Schlegelholtz, island Commander (1386-1412), the Knights of St. John undertook major military works that fortified the perimetrical city wall, fortress and great strongholds. The perimetrical wall of the city built at 1391-1396 with every kind of ancient material.
The St. Peter's Fortress construction in Bodrum also attributed to Schlegelholtz.
Fortification works of outer fortress of Nerantzia undertaken from 1498 onwards, due to the Turkish offensive activities intensification. Between 1505 and 1508 western side of the castle facing the harbor was constructed. Whereas bridge which connects the outer fortress with Hippocrates' Plane Tree Square constructed at 1500-1510. The Castle or Castello is the most significant part of the knightly fortification and complements marvelously the city's surrounding wall. Its primary purpose was the defence from the sea and harborprotection. We dot not know exactly when it Kos castle constructed but it certainly existed at the end of 14th century. The castle composed of two fortified surrounding walls, with the exterior wall encircling. And following the perimeter of the interior wall that built earlier. The two separate walls come together only on eastern side. They connected by a sloping downhill road, built on the arches of an ancient bridge. Wide moat separates them on the north, west and south side. The sea must have come up till interior wall, before the exterior wall was built.